Check out our new Germantown Hills Warriors Athletic Page for schedules, directions to events, and so much more. il.8to18.com/germantownhillsms/home

Please consider a visit to the Metamora Dairy Queen on Monday, August 22nd from 4:00-9:00 PM to support our Parent/Teacher Organization!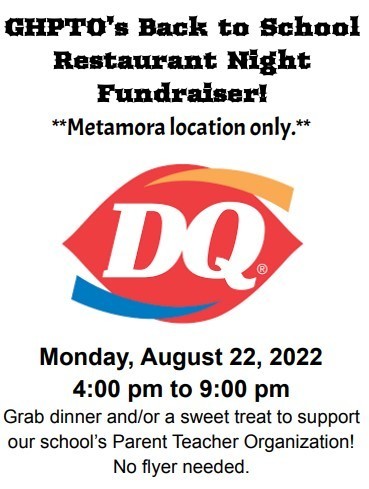 Hour 7: advanced math Pascal's Triangle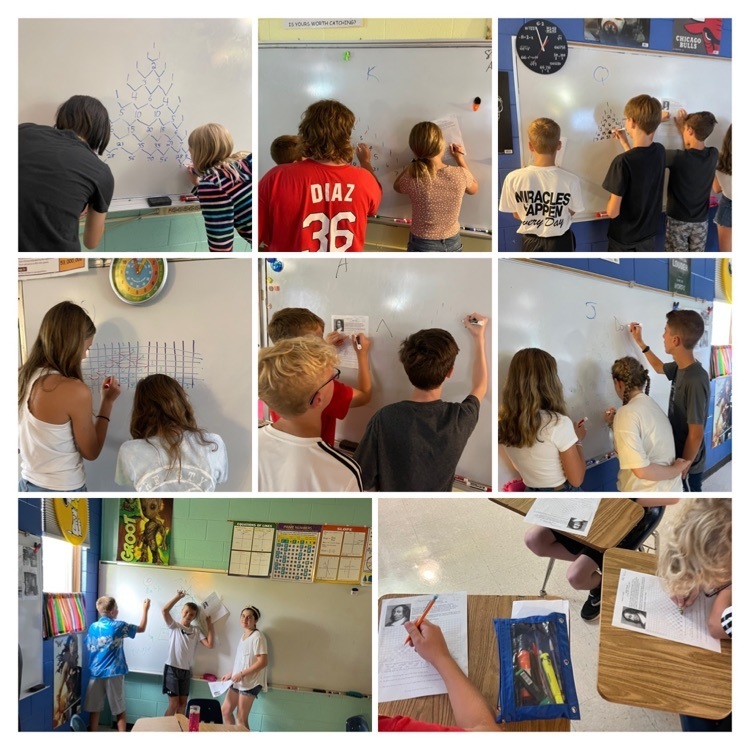 Hour 6: Pascal's Triangle Fun!
Hour 4: Pascal's Triangle Fun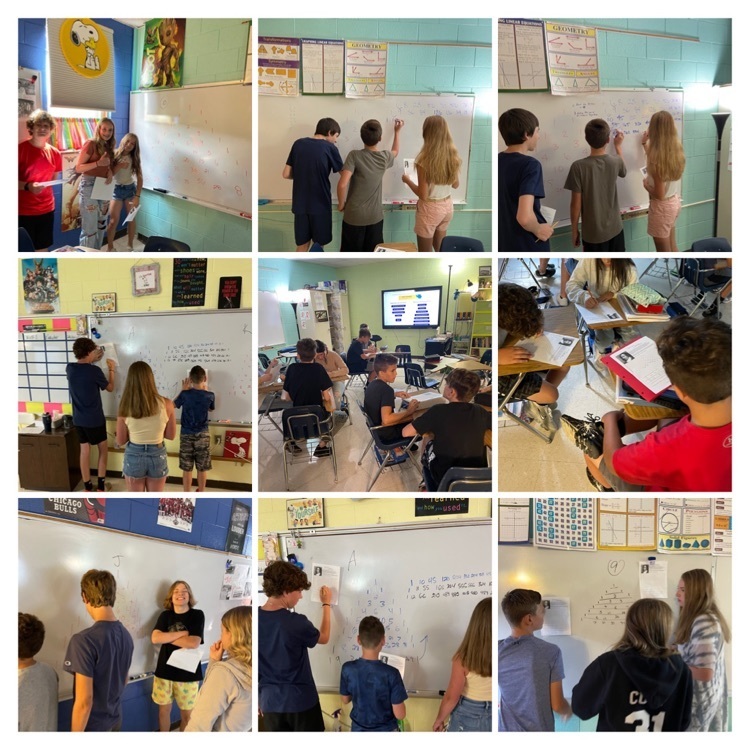 We can't wait to welcome our students back tomorrow!! Middle School doors open at 7:20 AM and Elementary doors open at 8:15 AM. See you soon!

Good Afternoon, Just a quick reminder that Monday the Kindergarten Open House is from 5-7 pm and Meet the Teacher Night for grades 1-4 is from 6-7 pm . We can't wait to see our new and familiar faces at GHES!

Email invitations to subscribe to Stopfinder, which is our transportation software, have been sent for all students.  The email invitation has been sent to the email address of the parent or guardian who is listed as the primary contact in our student information system.  You may log in to Skyward to see who is listed as the primary contact.  The primary contact is the first person. Again, the email invitation will be from Stopfinder.  If you do not see the email, please search your junk/spam folder.  In the email, you will need to click the link to subscribe then  you will need to download the Stopfinder app in order to access your child's bus information including pick up and drop off times as well as bus stop location. If you have any question or issues, please contact Supt. Dan Mair at
dmair@ghills69.com
.


Unfortunately, our Student Information System has not been correctly uploading to our new transportation software.  This has caused about 1/3 of our parents/guardians to not get transportation information such as bus pick up times for their children.  We have identified the problem and will get this corrected by the end of the day tomorrow. If you have not received transportation info yet, you will by the end of the day tomorrow (August 11th)!

IMPORTANT MESSAGE REGARDING STUDENT MEDICATIONS! Our nurse will be at the school this Friday, August 12th from 8:00-12:30 for any parents needing to drop off student medications. If this time does not work, you may bring medications the first day of school. A parent or guardian must bring in all medications that will be distributed at school. Please remember, in order for medication to be given at the school, a Medicine Authorization Form needs to be filled out and signed by a provider per Illinois law. Also, if your child is prescribed an emergency medication, please be sure to have their provider fill out their Action Plan in addition to the Medicine Authorization Form, as this is also a requirement. Medicine Authorization Forms and Action Plans can be found on the new website under the Nurse's Nook. Forms can be brought in, emailed or faxed.

Good Luck to the GHMS Softball team as they travel to Dunlap to take on the Dunlap Middle School Panthers for their first game of the season.

Due to the weather and poor field conditions, Softball practice for today, Tuesday August 2nd, has been canceled.

Baseball tryouts will be moved to the West gym today from 10:00-10:45. We will only be throwing bullpens. If you don't want to get evaluated as a pitcher or catcher you do not have to show up. Make sure to bring a pair of tennis shoes. The team will be posted by 1:00 today at the main entrance as well as tomorrows practice time.

Enrollment for Right at School , our before and after school student care partner, is open. Right at School serves students in grades K-4! For more information, please visit their website
www.rightatschool.com
.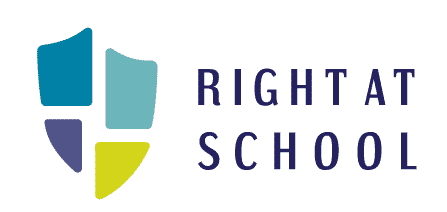 Just a reminder all sports concussion forms and sports fees ($25 per season) must be turned into the coach before the first game or your child will not be able to participate in the game. All students participating in a summer/ fall sport (Softball, Baseball, and CC) should have an updated physical turned into their coach.

We're thrilled to announce the new app for Germantown Hills School District! It's everything Germantown Hills School District, in your pocket. Download for Android
https://bit.ly/3bZGMcH
Download for iPhone
https://apple.co/3NWcF2S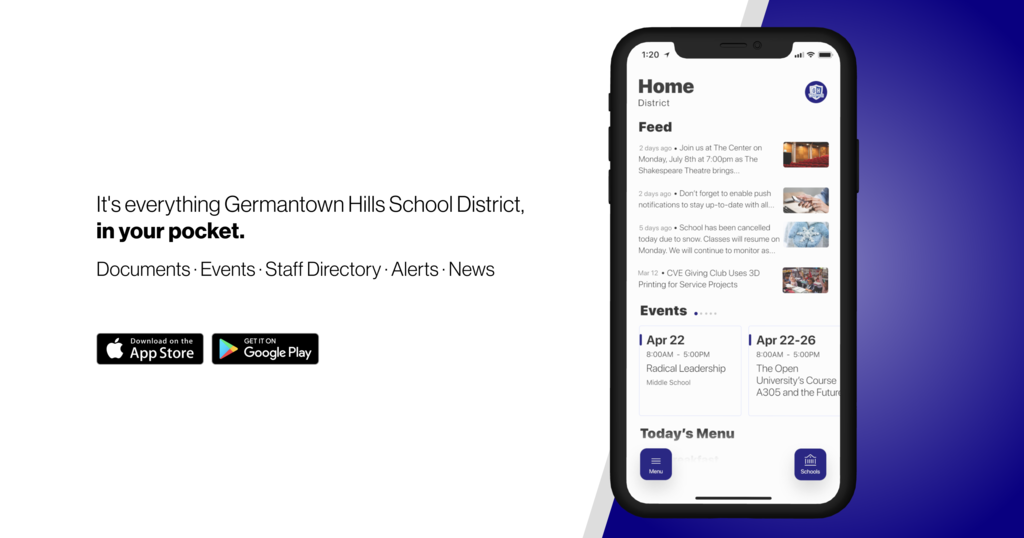 Just a reminder, softball tryouts are today, July 25th and tomorrow, July 26th from 1-3pm. Contact the office with any questions!

Good Luck to all the girls who are trying out for softball today!

Let the countdown begin! There are only 24 more days until school begins and we are so excited to get started! Here's a timeline for our 1st week of school. It includes information about Kindergarten Open House and Meet the Teacher Night. We can't wait to see our new and familiar faces at GHES!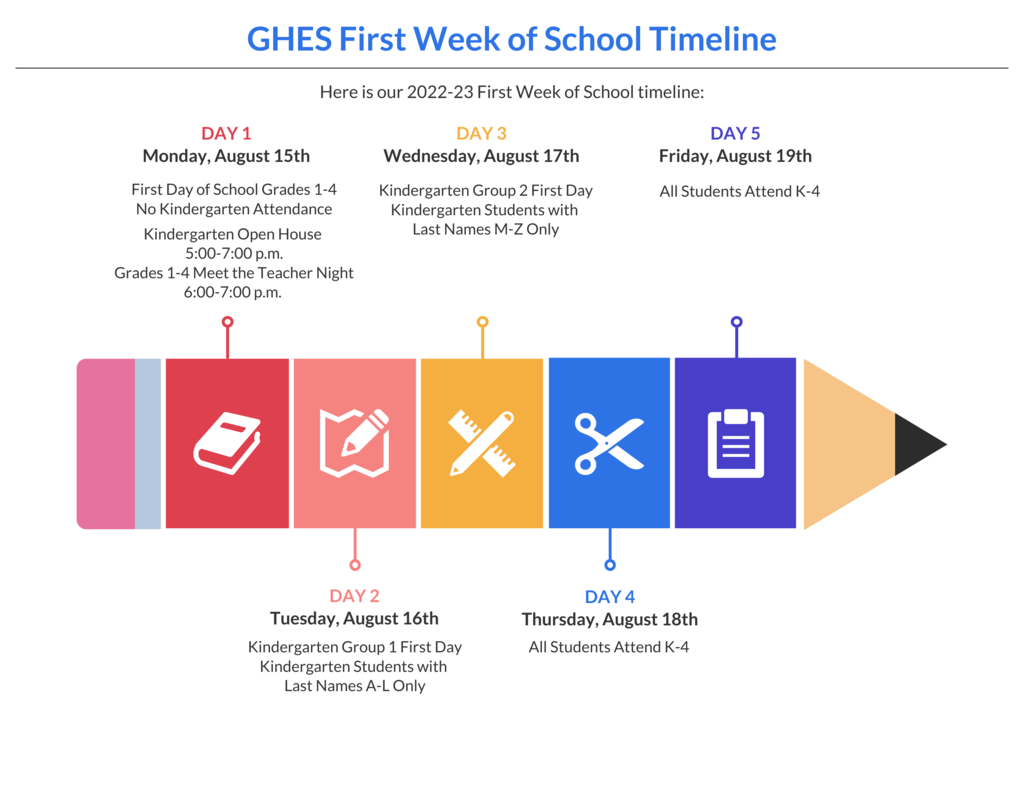 Back to School Night for the Middle School will be Thursday, August 11th from 5-7pm. We will use an Open House format. Students will receive schedules and locker combinations and be able to drop off school supplies. They will also be able to find their new classrooms and meet their teachers. Hope to see you there!