Mr. Jason Hunt - President
Elected- April 2015
Present Term- 2019-2023
jhunt@ghills69.com
Mr. Eric McAllister - Vice President
Elected- April 2011
Present Term- 2019-2023
emcallister@ghills69.com
Mrs. Trisha Edwards - Secretary
Elected-April 2019
Present Term- 2019-2023
tedwards@ghills69.com
Dr. Raymond Baker - Member
Appointed- April 2021
Present Term- 2021-2023
rbaker@ghills69.com
Dr. Jessica Hanks - Member
Elected- April 2021
Present Term- 2021-2025
jhanks@ghills69.com
Mrs. Lori Hanson - Member
Elected- April 2021
Present Term- 2021-2025
lhanson@ghills69.com
Mr. Justin Krager - Member
Elected- April 2021
Present Term- 2021-2025
jkrager@ghills69.com

District Treasurer
Matt Sturgell (Appointed by the District Board of Education)
Meetings begin at 6:00 pm and are held in the Media Center (enter through Door #9)
unless otherwise noted
Monday, July 11, 2022
Monday, August 8, 2022
Monday, September 12, 2022
Tuesday, October 11, 2022
Monday, November 14, 2022
Monday, December 12, 2022
Monday, January 9, 2023
Monday, February 13, 2023
Monday, March 13, 2023
Monday, April 17, 2023
Monday, May 8, 2023
Monday, June 12, 2023
State of the District, Thursday, January 26, 2023
The School Board is the governing body of the district. It is comprised of seven local citizens elected to four-year terms each. The School Board establishes policies and goals and has final control of all District matters within the framework set by the State Legislature and State Board of Education. The Superintendent is the chief executive officer of the Board. He is responsible for advising the Board on all matters and for executing Board policies and decisions. Board meetings are generally scheduled on the second Monday of each month at 6:00 p.m. in the Nauman Media Center. Occasionally, meeting times or places are adjusted for special purposes.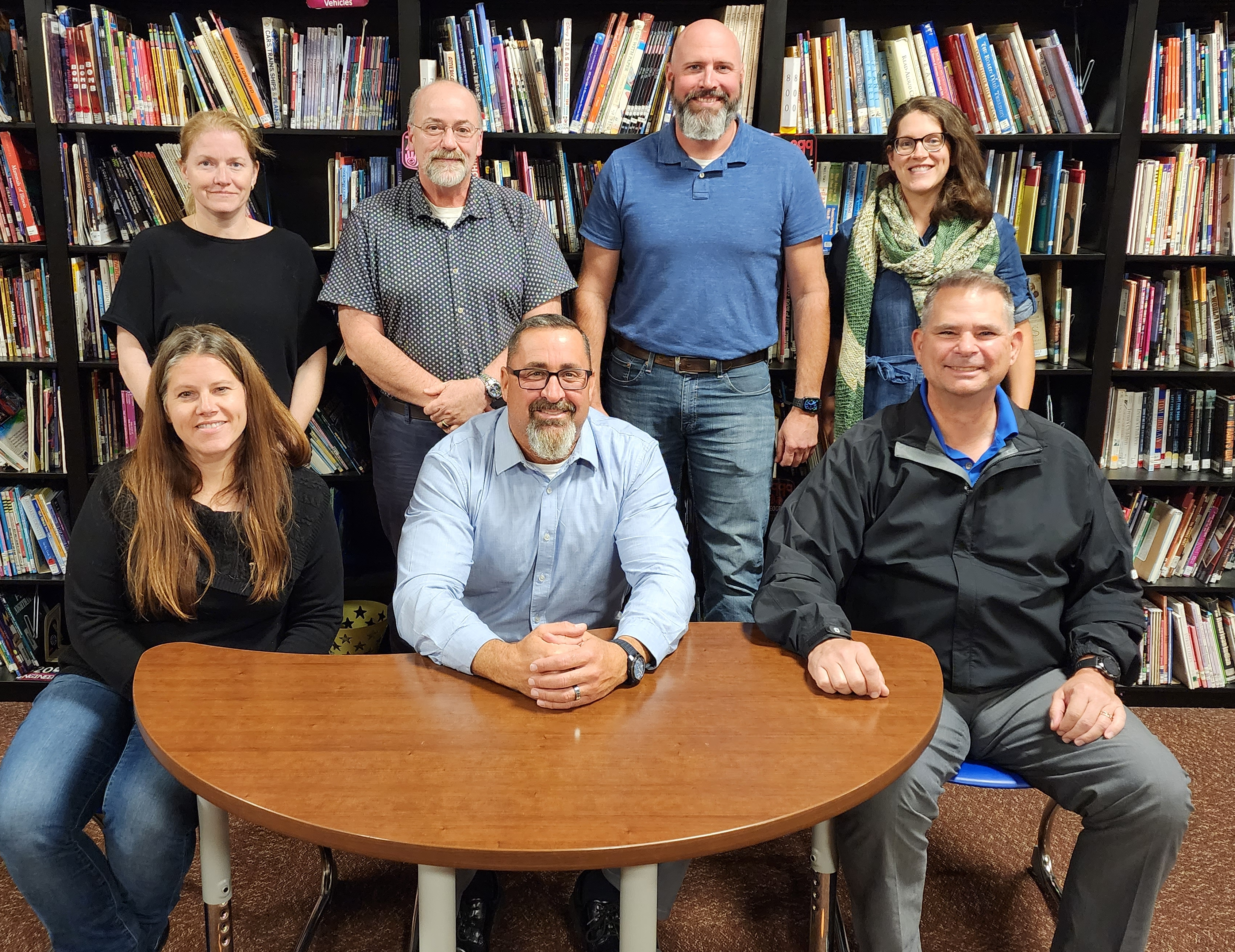 Front L to R: Mrs. Trisha Edwards, Board Secretary, Mr. Jason Hunt, Board President, Mr. Eric Mc Allister, Board Vice-President Back L to R: Dr. Jessica Hanks, Dr. Raymond Baker, Mr. Justin Krager, Mrs. Lori Hanson
PLEASE NOTE: Public comment shall be limited to 5 minutes. If you would like more time, please contact Superintendent Dan Mair to be put on the agenda. District citizens wishing to be on the agenda to make a presentation to the Board should contact Dan Mair by Thursday morning preceding the Board meeting. Questions or comments will be entertained at the President's discretion during the "recognition of visitors" part of the agenda. The "recognition of visitors" portion of the meeting will be recorded by the School District for possible future legal considerations. Each person wishing to address the Board must identify themselves. All comments need to be general in nature. No specific individual may be identified by name nor may specific job titles or responsibilities be used to identify such individuals. After the meeting, anyone in attendance is invited to seek clarification from Board members or Administrators on any topic discussed during the open session portion of the regular meeting.
Questions? Click here to e-mail
To request information or public records, contact the secretary to the Superintendent, Stacy Tellor, at 309.383.2121, option 4
FOIA Act, Section 6 (P.A. 96-542 ~ 5 ILCS 140/6)